The Warp Whistle Project is a cross-disciplinary collaboration between Mary Laube and Paul Schuette. We make stage sets, temporal paintings, electronic musical instruments, and site-specific installations. Each project integrates unique technologies (CMOS synthesizers, Arduinos, Raspberry Pis, etc.) for the production of sound motion and light.
The Navigator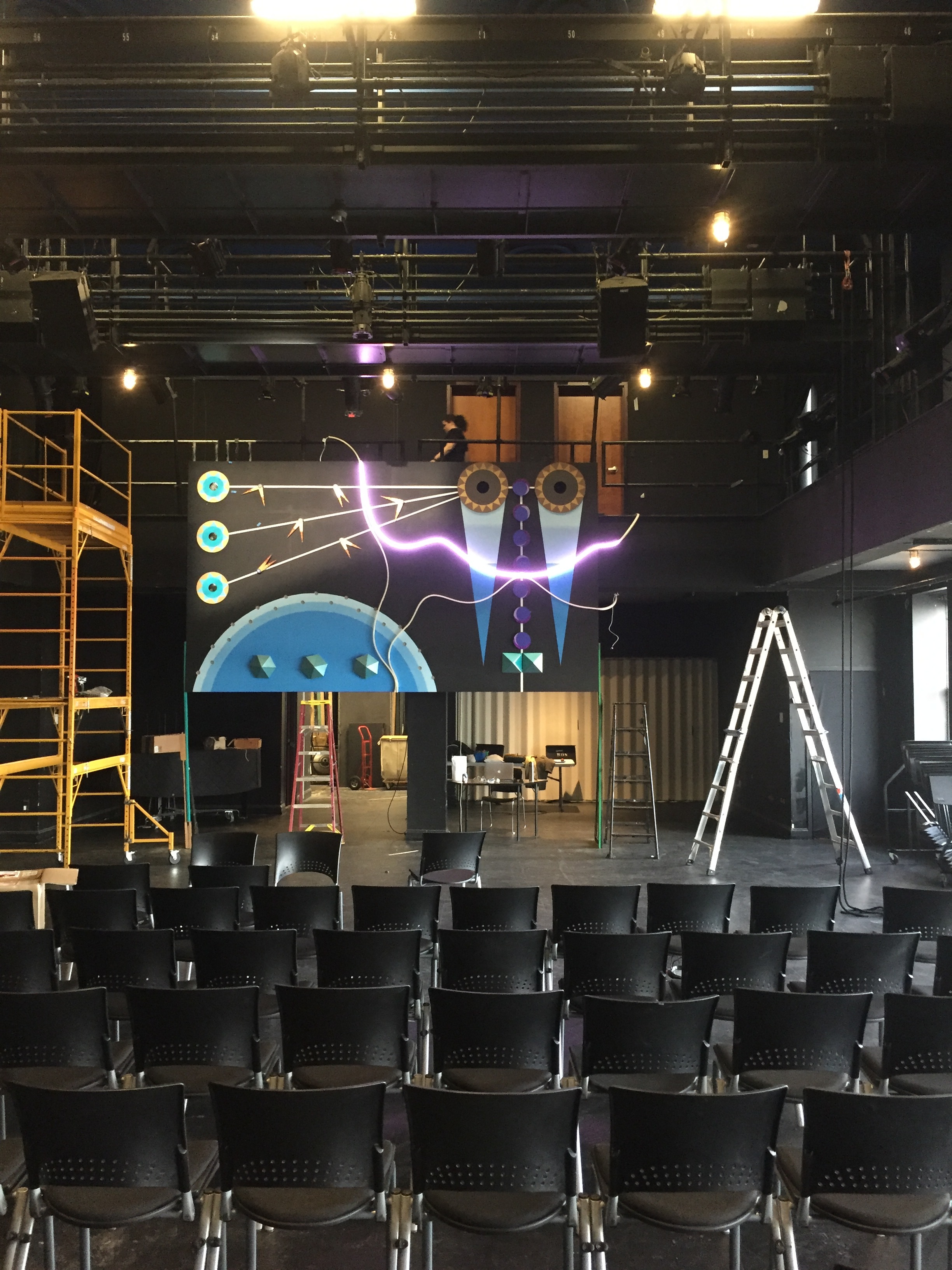 About the work
The Navigator is a hybrid work of art: a staged collision of sonic and visual information. The visual components are inspired by Asa Smith's 19th century astronomical illustrations: outdated planetary charts that served a didactic purpose for his readers. Additional source materials include 1950s science fiction stage sets, clock parts, and mythological scientific instruments. Tensions between the hand-made and the mechanical, illusion and artifice, and function and futility, positions The Navigator as an amalgamation of past representations of ideological futures. Similar to make-believe, the viewer is consumed by an experience on the verge of rupture.
As The Navigator performs its various functions, its true purpose remains enigmatic. While every journey has a destination, The Navigator's priority is the voyage. In "Wind Up", the music is energetic and intricate, influenced by strains of minimalism, yet the question of mechanical malfunction begins early on as kinks enter into the clockwork precision. "Unlock" is an hypnotic journey through nocturnal spaces - pointillistic starbursts of sound map a course out of the darkness and into the light. In the final leg, once a tenuous signal is established, The Navigator is ready to "Transmit" to its final destination.
From the Network for New Music:
You won't want to miss this unique, cross-disciplinary performance, where you will hear and see "The Navigator", a new multi-media work by composer Paul Schuette and visual artist Mary Laube, side-by-side in U. of Arts state-of-the-art black box theater. The Network Ensemble will also respond to iconic graphic scores by William Kraft and Gyorgy Ligeti/Rainer Wehinger.
Advance ticket sales: $20 Regular/15 senior/10 student (at the door; $25/20/10)
University of the Arts students and faculty FREE ADMISSION